"Down from the High Country" (Six horse pack train)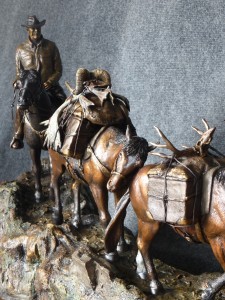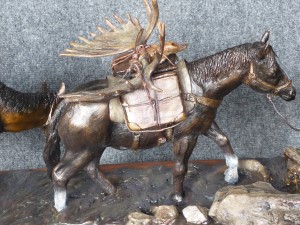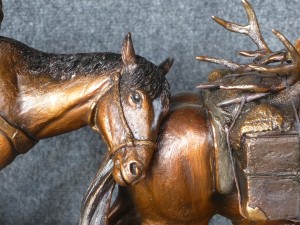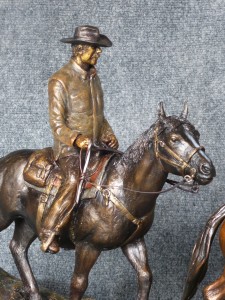 Taking a pack train of horses into the mountains for a hunting expedition should be on everyone's bucket list.  This extraordinary adventure is experienced every year in North America to access the highest and most remote areas.   The return trip hopefully includes pack animals loaded with the trophies of the successful hunters.  Here, the sculpture captures the pack train pausing and crossing a creek where they can drink and refresh themselves.  This sculpture, which is over six feet long, can be customized to represent your memories.  We can include your choice of trophies on the four pack animals and even customize them to look like particular animals if desired.  With the guide leading the string,  we can even customize the back rider to look like you!   This sculpture tells the story of how and why you hunt.  It commands a presence and views beautifully from all sides making it easy to place in the centre of a trophy room or lobby.    "Down from the High Country" is mounted on a 2″  Black Walnut base and is approximately 72 inches long.  $39,000.00  USD includes crating and shipping in North America.  Edition of 25.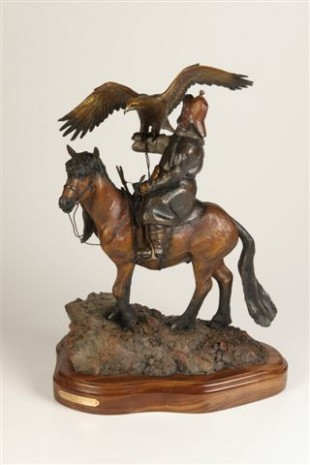 "Eye of the Hunter" by Rick Taylor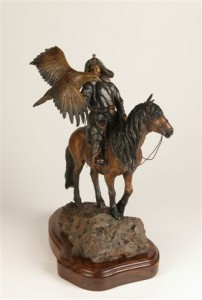 click to enlarge
Since the dawn of time hunters have been assisted by domesticated wild animals which include horses, dogs and even birds.  The mightiest of the birds used for hunting is the golden eagle in western Mongolia.  The limited edition bronze sculpture entitled "Eye of the Hunter" depicts this ancient practice.  As a companion piece to "Under Asian Skies" it further tells the story of the Mongolian and Kazahk way of life,  past and present. It features a Kazahk  hunter, his bird and his stout but powerful horse. This sculpture is part of the "Traditional Way" series, which reflects Rick's personal interest in other cultures and old hunting traditions.  This bronze is 20″ tall. The edition is limited to 24. $12,500 USD includes shipping in US and Canada.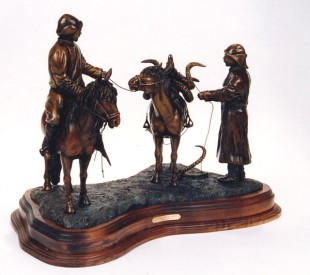 "Under Asian Skies" by Rick Taylor
The largest wild sheep in the world live in western Mongolia.  A trip to the Altai mountains is a step back in time where the traditional people live much the same as they did a thousand years ago.  They are accomplished horsemen partly due to their horses, which, although small in stature, are strong and determined .  These horses are descendants of the line that allowed Genghis Khan to conquer the world.   Here one also finds the wild ibex, that spectacular mountaineer of the crags.  "Under Asian Skies" is a limited edition cast bronze sculpture which reflects Rick's love of Mongolia, its people and wildlife. The success of this substantial work is due to the attention to details such as the saddlery, costuming and cargo. Also, to honor Mongolia and its citizens, Rick installed a larger than life-size monument of the mighty  Argali sheep  in front of the Natural History Museum, in Mongolia's capital city, Ulanbaatar. "Under Asian Skies" is 25 inches long. The edition is limited to 36. $25,000. USD includes shipping in US and Canada.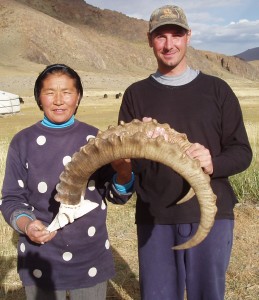 THIS EDITION IS SOLD OUT
mongolia-steven bauche.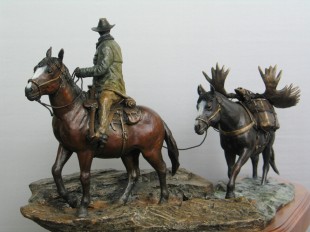 "Old Trails, New Tales" by Rick Taylor
One of the great things in life is a traditional horseback hunt with a pack train.  The freedom to move camps and travel unencumbered is wonderful.  If one is lucky enough to collect a trophy the pack horses enable its recovery and transportation.  In this sculpture "Old Trails, New Tails" you can imagine that you are following your guide who is leading a pack horse which has your trophies as a top load.  Rick will customize this sculpture to display either moose, deer, sheep, elk or which ever combination you chose.  This sculpture features the methods of the traditional hunt and is beautiful from every side.  It is 27″ long and is mounted on walnut.  Edition limited to 48.  $18,000 USD  includes shipping and crating in US and Canada.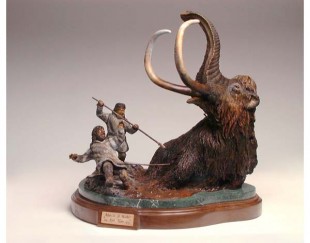 "Man is a Hunter" (Mammoth and Hunters) by Rick Taylor
The title "Man is a Hunter" says it all.  Human beings evolved as hunter gatherers and devised ingenious tools and methodology to overcome huge physical challenges.  Man developed hundreds of techniques to kill animals for their survival.  Here is a scene from 25,000 years ago as ancient hunters with "Clovis point " stone tipped spears attempt to harvest a wooly mammoth, a common animal of the grassland steppes.  During this interglacial period, human beings and wildlife crossed a land bridge which is now the Bering Sea and spread southward across the North American Continent.   Many fossils and frozen remains of wooly mammoths are unearthed annually.  Sometimes intact tusks up to 12 feet long are uncovered.  Broken ivory is made into small objects and is legal to trade.  "Man is a Hunter" bears a  scrimshawed fossilized mammoth ivory tag.  This limited edition bronze sculpture is especially coveted by those who collect the ancient wooly mammoth artifacts as it tells the story of the hunt from a prehistoric perspective. Human beings are genetically predisposed to hunt and still today carry on that tradition although our modern tools now favor the hunter rather than the hunted.   "Man is a Huntert" has an enhanced color patina and stands 21″ tall.  The edition is limited to 48. $18,000 USD includes crating and shipping is US and Canada.  THIS EDITION IS SOLD OUT