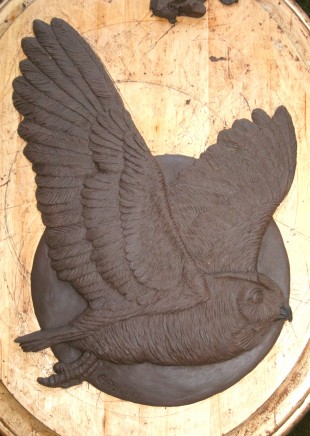 Alberta Childrens Hospital Doctors' Award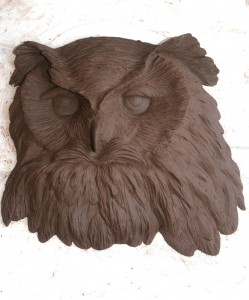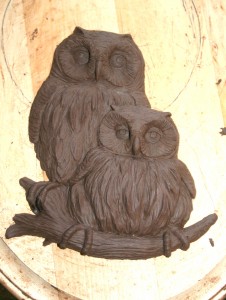 These owl themed award motifs are in keeping with the wildlife theme established by Carole at the Alberta Children's Hospital in Calgary, Alberta since the new hospital opened some 10 years ago.  The flying great horned owl and the owlets will adorn the plaque in the doctors lounge which holds the name of each year's award recipient.  The "top doc" will take home a custom walnut recognition award which will contain the portrait of the adult great horned owl.  The flying owl symbolizes family, protection, health and vigor.  The owlets are central to the piece by representing the kids and their circle of siblings and friends.  The female adult owl on the "take home plaque" represents all the qualities that owls and doctors have in common including knowledge, wisdom, patience and nurturance.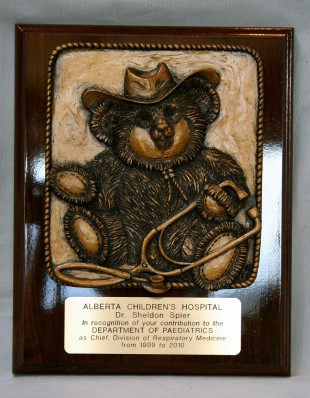 Alberta Children's Hospital Recognition Gift "Dr. Bear"
The Alberta Children's Hospital in Calgary Alberta commissioned Carole to make a presentation plaque to be used as as a recognition gift to those who have served the hospital in some way.  To be cast in "cold cast bronze", they are mounted on a walnut plaque which will hold an engraved tag with recipient's contribution thereon.  The image contains, in low-relief, a teddy bear wearing a cowboy hat and holding a stethescope.  The largest element, the bear , represents the children, the hat represents the support and shelter of the City and University of Calgary and the stethoscope represents the staff.  The bolo tie which bears the logo of the hospital echos the families and the "ties that bind".  The image is framed with a "hand-tooled" rope border.  Having been involved with the hospital from the blue print stage, Carole and Rick have contributed many artworks to the Alberta Children's Hospital and to the Flames House Hospice with the hope that they make the environments a nicer place to be.  For a custom recognition program for your hospital contact the artist.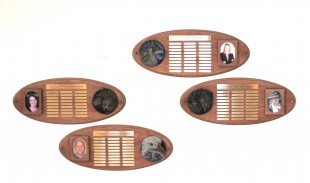 Alberta Children's Hospital Doctors' Awards by Carole Danyluk
After several successful projects with the Alberta Children's Hospital, the artist was called upon to create the artwork for the  Doctors' Awards and Recognition Program. These four oval cherry wood plaques contain the names of the ongoing award recipients for the hospitals "Humanitarian Award, Clinician/Educator Award, Community Paediatritian Award and Academic Leadership Award.  The awards display also contains four bronze relief wildlife  sculptures.  The positioning of the animals: coyote in the north, bald eagle in the south, bison in the east and grizzly in the west echos the theme of the life-size sculptures in the main lobby of the hospital by Carole Danyluk and Rick Taylor . Combined with the wildlife "way-finding" symbols throughout the building designed by the same artists this theme has created continuity that is both comforting and convenient for the patients and families.  Inquire about custom work.