"Dominion"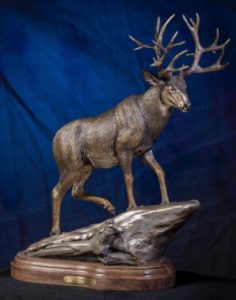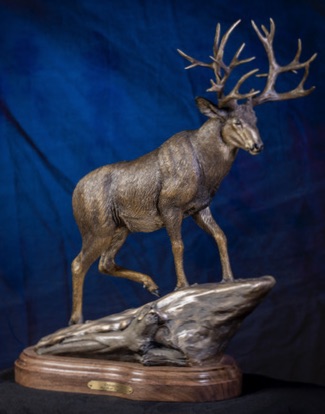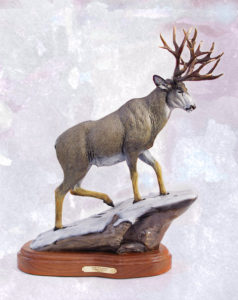 "Dominion" is a 1/4 scale bronze of a mountain mule deer, a huge non-typical buck. Mule deer are a common species in western North America and range from the grasslands through the foothills into the mountains. This sculpture portrays a buck in November in snow trailing a doe's tracks. At the top of the ridge he is surveying his dominion. This bronze is available in a traditional buffed ferric brown bronze or in an enhanced coloured realistic patina. This bronze has been enlarged to heroic size which is 1.25 of life-size and is installed at the Jack O'Connor Hunting Heritage and Education Centre in the Snake River State Park at Lewiston Idaho. The sculpture is an edition limited to 100.
"Lapp Creek -1936" (The Chadwick Ram)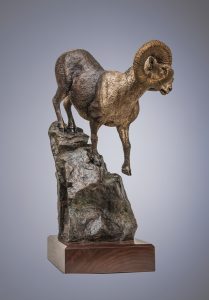 In 1936 L.S. Chadwick shot a tremendous 51 inch stone sheep in northern British Columbia on an epic 60 day hunting trip with Roy Hargraves and Frank Golata. This ram went on to be scored as the world record and remains in the Boone and Crockett record book in first place. It's iconic configuration is the logo of the Wild Sheep Foundation. The complete story of this hunt from personal diaries is being published in a new coffee table book called "Dream Rams of British Columbia" by Bill Pastorek. This book will be published in 2018 and contains over 500 photos and stories of legendary British Columbia wild sheep and wild sheep hunters. It also features extensive coverage detailing the story of L.S. Chadwick complete with never before seen personal notes and maps. This book is a treasure trove of information for any sheep hunter who has experienced BC. This sculpture and book set is a "must have" for any serious sheep nut.
This bronze is 1/5 scale and stands about 16″ tall. A purchase of this bronze will be accompanied by a complimentary copy of "Dream Rams of British Columbia" by Bill Pastorek. Retail $6000 USD includes shipping to continental US and Canada.  
"Catch. Release. Repeat."
Of all the  dreams that fishermen have one of the top rated would be hooking and landing an elusive steelhead trout. These sea run rainbow trout return from the Pacific Ocean to their birthplaces hundreds of miles upstream dodging currents, physical barriers and predators. It is there that they spawn and, unlike salmon, do not die. Hence, they might return to the ocean for another cycle and live to return again. By living a portion of their lives in the ocean they can feed and attain a size and strength much greater than their freshwater counterparts. Their reputation as spectacular fighters is legendary and it is this characteristic that draws fisherman from all over the world to the Pacific Northwest. Wild steelhead are protected and revered and must be released.  The overall height of this piece when mounted on a marble base is 10″ and it is 15″ wide.  It is available with two different rod configurations as seen in the pictures above.  The edition is limited to 48. $8500. CDN includes shipping worldwide.
"Bad Company" (Ratel)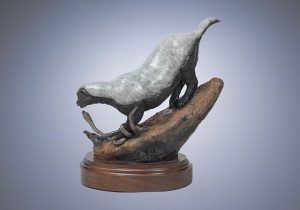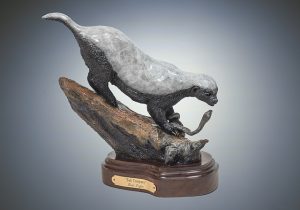 This African Honey-Badger is the badass cousin to the North American Wolverine. Similar in size and temperament it is one tough customer. Just ask any unfortunate snake that crosses his path. Interestingly, these animals are immune to reptile venom and use that to their advantage. This enhanced patina bronze stands about 8 inches tall and is mounted on a solid walnut base. The edition is limited to 100. $2600 USD includes shipping to continental US and Canada. THIS EDITION IS CLOSED.
"Cautious Approach"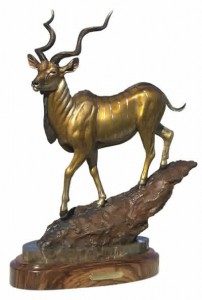 The unique feature of this Greater African Kudu sculpture is the use of .999 fine silver to depict the stripe markings and the chevron. It is mounted on exotic African zebra wood. This elegant sculpture measures 22 inches tall. $6800 USD includes shipping to continental US and Canada.  THIS EDITION IS CLOSED
"Ethiopian Highlands" (Mountain Nyala)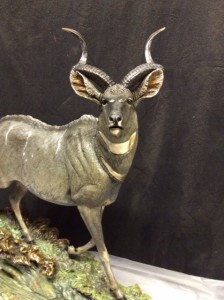 Commissioned by the Murulle Foundation this bronze sculpture is a fundraiser for habitat projects in Ethiopia to benefit the elusive Mountain Nyala.  Limited to a small edition of only 25 pieces each sculpture is inlaid with .999 fine silver to mimic the subtle spots and stripes of this unique animal.  It is mounted on a premium marble and bronze laminated base and weights approximately 75 pounds.  At 1/4 scale the finished bronze stands 24 inches tall and is 22 inches long.  $14,000. USD includes shipping in North America.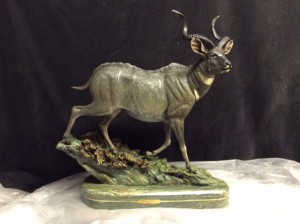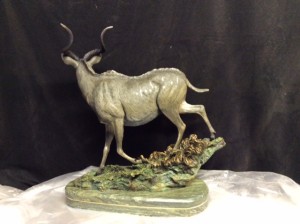 "Against All Odds"
In the spring of 2015 the Boone and Crockett Club officially measured and recognized a new world record Rocky Mountain bighorn sheep.  It was a ram that died in a vehicle collision southwest of Longview, Alberta.  The life of this 12 year old ram was well documented by scientists at the Sheep River Provincial Park where the ram had been born and ear-tagged as a lamb.  He was known as #706,  and survived a life in an open hunting area with a massive wound to his right horn inflicted by poachers within the park boundaries in the winter of 2008.  The growth of this ram's horns was well documented by the researchers at the Miller Centre and after the near fatal head wound #706 left the area and spent most of his last two years in the foothills of the OH Ranch in the company of another ram.  This story has been documented by Rick in a full color booklet with photos, maps, and information courtesy of Dr. Kathreen Ruckstuhl of the University of Calgary.  This booklet fixes to the base of each bronze.  "Against All Odds" is a time limited edition and is 13″ tall by 11″ wide (in 1/5th scale) and is mounted on a walnut base.  $4995. USD includes shipping in US and Canada.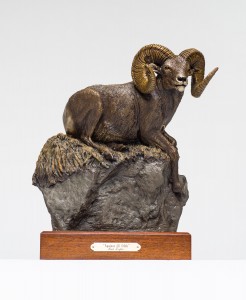 "Down from the High Country" (Six horse pack train)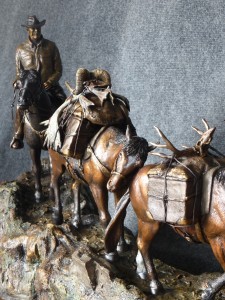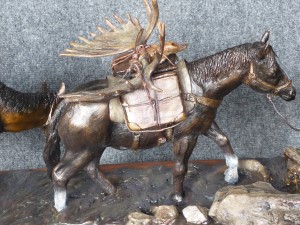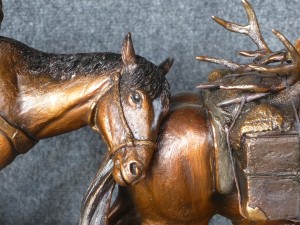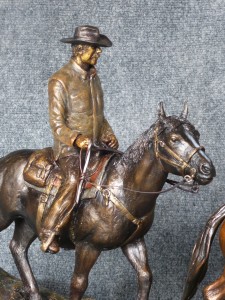 Taking a pack train of horses into the mountains for a hunting expedition should be on everyone's bucket list.  This extraordinary adventure is experienced every year in North America to access the highest and most remote areas.   The return trip hopefully includes pack animals loaded with the trophies of the successful hunters.  Here, the sculpture captures the pack train pausing and crossing a creek where they can drink and refresh themselves.  This sculpture, which is over six feet long, can be customized to represent your memories.  We can include your choice of trophies on the four pack animals and even customize them to look like particular animals if desired.  With the guide leading the string,  we can even customize the back rider to look like you!   This sculpture tells the story of how and why you hunt.  It commands a presence and views beautifully from all sides making it easy to place in the centre of a trophy room or lobby.    "Down from the High Country" is mounted on a 2″  Black Walnut base and is approximately 72 inches long.  $39,000.00  USD includes crating and shipping in North America.  Edition of 25.
"Lord Derby's Giant Eland"
The Giant Eland is the largest antelope in the world with bulls standing over 6 feet at the shoulder and weighing over a ton.  This large bronze is over 30 inches tall and 30 inches long.   It's distinctive vertical body stripes have been precisely inlaid with .999 silver and its tawny coat has been captured with a uniquely  contemporary patina.  The majesty of this singular species is portrayed by a mighty bull in full winter pelage  and represents the ultimate spiral horned trophy.   No small figurine could ever capture the power of this animal so at one quarter scale this is a large and impressive bronze sculpture.  "Lord Derby's Giant Eland" is an edition of only 25 and will command a place of honour in your trophy room.  $15,000. USD includes crating and shipping in North America.