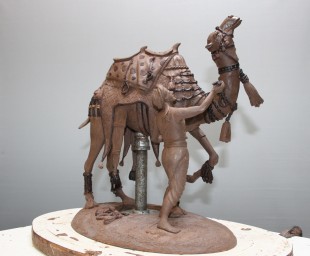 "Parade Day"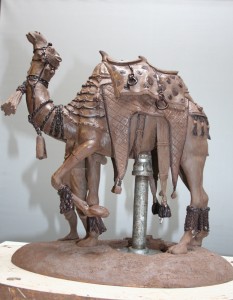 The limited edition bronze "Parade Day" depicts the celebration of the camel as he is decorated for the Camel Festival Parade in Rajistan India.  This piece is based on the artists' travels to the area and is executed in exacting detail  showing the myriad of ropes and reins, trims and tassels, braids and brocades that adorn the "ships of the desert" during festival days.  This scupture measures about  16″ tall and will be mounted on 1 and 1/4 inch black granite.  The edition is limited to 36.  Inquire to purchase.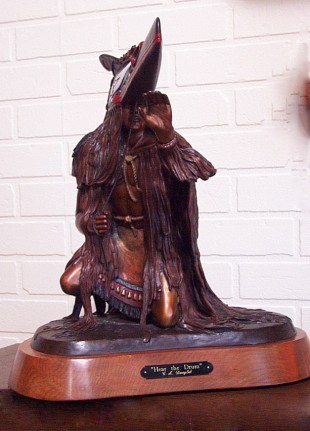 "Hear the Drum" (Kwakiutl Tribal Dancer) by Carole Danyluk
Limited Edition Bronze Sculpture entitled "Hear the Drum" portrays the ceremonial winter dance of the Kwakiutl people of British Columbia's west coast. This is their traditional boyhood to manhood ritual.  The dancer in the sculpture is one of the three sattelite transformative supernatural beings surrounding the boys who are becoming men.  When the winter ceremonial is taking place, the young boys or "initiates" are deep in the woods proving their worth. The mask design is based on the "Cannibal Raven" motif and is hand painted by the artist. The dancer wears ceremonial garb made of cedar, the sacred material.  This piece is mounted on a very beautiful piece of cedar burl wood.  Each piece's base has unique characteristics as the bronze edition works its way through this very special supply of old wood.  "Hear the Drum" stands 18″ tall. The edition is limited to 60. Purchase of sculpture includes fascinating book written by a scholar in the field who explains this mysterious secret society and sheds some light on the cannibalism controversy.  Inquire for more details.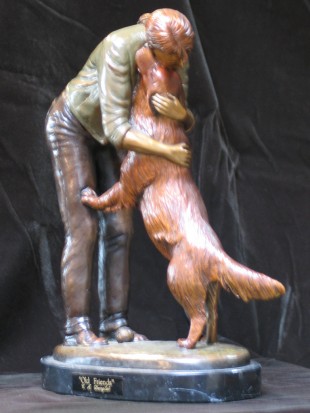 "Old Friends" by Carole Danyluk
"Old Friends" is about a woman and her dog .  If I talk about this piece I will start to cry.  Fellow dog lovers know what I mean.   Sculpture is about 12″ tall. Edition limited to 7. Inquire about having a sculpture made that depicts you and your dog. This sculpture is $1800. and includes shipping in US and Canada.