"Down from the High Country" (Six horse pack train)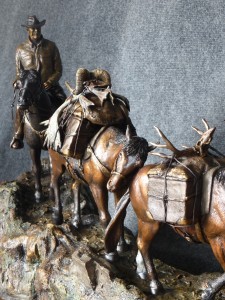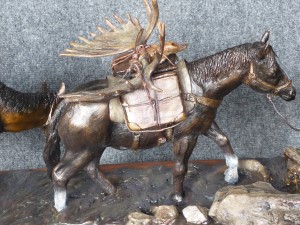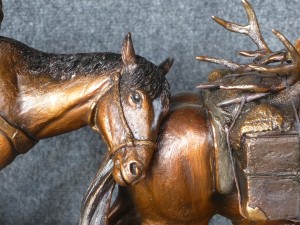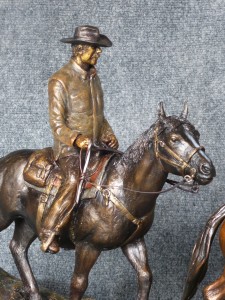 Taking a pack train of horses into the mountains for a hunting expedition should be on everyone's bucket list.  This extraordinary adventure is experienced every year in North America to access the highest and most remote areas.   The return trip hopefully includes pack animals loaded with the trophies of the successful hunters.  Here, the sculpture captures the pack train pausing and crossing a creek where they can drink and refresh themselves.  This sculpture, which is over six feet long, can be customized to represent your memories.  We can include your choice of trophies on the four pack animals and even customize them to look like particular animals if desired.  With the guide leading the string,  we can even customize the back rider to look like you!   This sculpture tells the story of how and why you hunt.  It commands a presence and views beautifully from all sides making it easy to place in the centre of a trophy room or lobby.    "Down from the High Country" is mounted on a 2″  Black Walnut base and is approximately 72 inches long.  $35000.00  USD includes crating and shipping in North America.  Edition of 25.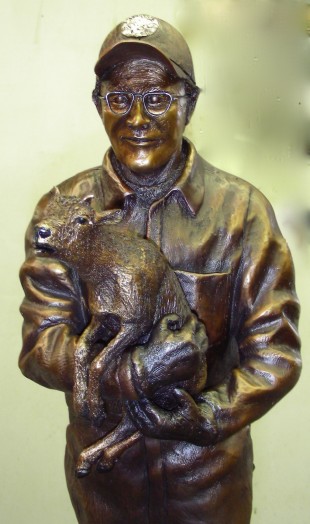 "Putting Sheep on the Mountain" (Rick Taylor's tribute to Dr. Jerry Waite)
This sculpture is Rick's personal tribute to Dr. Jerry Waite (past president of FNAWS)  and a fund-raiser for a club that Rick has been a member of for 30 years.   This club is the Wild Sheep Foundation and the wild sheep of North American are Rick's favorite cause.  This bronze depicts Dr. Jerry Waite as he handles a lamb destined to repopulate old sheep habitat, only one of many "on-the-ground" projects that FNAWS,  and now WSF,  initiate and fund.  This project is c0-sponsored by Ted Shutte (past president of FNAWS) and the Iowa Chapter of FNAWS.  This piece will be auctioned at the Convention this year and each year henceforth.  The winning bidder will have their name inscribed on the base of the bronze (entitled "Putting Sheep on the Mountain"  which will be on display at the WSF Headquarters in Cody, Wyming,  and at the club's annual conventions.  The winning bidder will receive a smaller bronze sculpture by Rick Taylor entitled "Free at Last" which depicts an ear-tagged lamb as he flees for freedom.   The proceeds raised are one hundred percent donated to the WSF with a portion earmarked for the "Biologist of the Year" and his or her research in the field.
"A Life in the High Country" (Version II) by Rick Taylor.
"A Life in the High Country" could also be called "Your life in Bronze" . On this sculpture, Rick  can personalize  your facial features, your firearm of choice, your hat, your pack, and your game .  This 18″ tall sculpture portrays a mountain hunter carrying a backpack with or without a ram and/or any other game you might chose and is destined to become a family heirloom as it becomes a "one of one" sculpture of a specific individual.  It can also be customized to include four ram busts on the base (see photo) which can be modified to represent your four specific rams.  This sculpture is all about you!