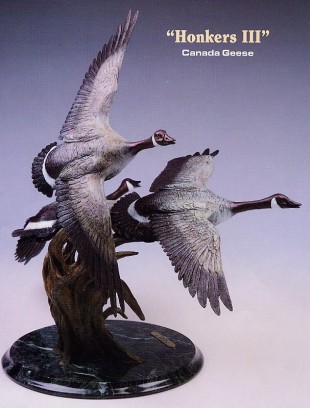 "Honkers III" (Canada Geese) by Rick Taylor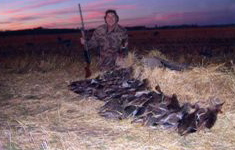 Get the last casting available of this popular waterfowl sculpture. "Honkers III" depicts three Canada Geese "coming in".  This limited edition bronze is mounted on black marble and 16″ tall.   This edition is sold out and is currently unavailable. This edition is SOLD OUT.
"El Patron" (Desert Sheep) by Rick Taylor
The Limited Editon Bronze entitled "El Patron" is one of a set of four rams each depicting the current world record sheep species.  These sculptures can be free standing or used as book-ends.  "El Patron" stands 10 inches tall and is mounted on fine walnut wood.  Edition is limited to 98. $2900. includes shipping in US and Canada.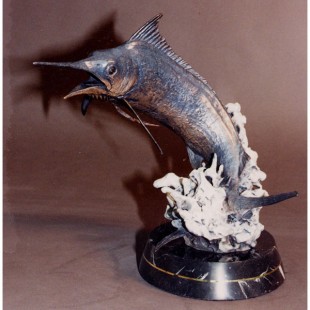 "Blue Water Blue" (Blue Marlin) by Rick Taylor
The giant billfish of the deep blue oceans thrill sportsmen when they are hooked and rocket skyward like acrobats.  This blue marlin is neither the largest nor the smallest of the species but one of the most majestic.  "Blue Water Blue" has an enhanced color patina  and is mounted on a deluxe double laminated marble base.  A great alternative when space will not allow for the lifesize souvenir of your trip.  This piece is about 13″ tall. The edition is limited to 48.  $6900 USD  includes delivery in US and Canada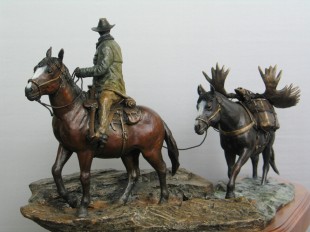 "Old Trails, New Tales" by Rick Taylor
One of the great things in life is a traditional horseback hunt with a pack train.  The freedom to move camps and travel unencumbered is wonderful.  If one is lucky enough to collect a trophy the pack horses enable its recovery and transportation.  In this sculpture "Old Trails, New Tails" you can imagine that you are following your guide who is leading a pack horse which has your trophies as a top load.  Rick will customize this sculpture to display either moose, deer, sheep, elk or which ever combination you chose.  This sculpture features the methods of the traditional hunt and is beautiful from every side.  It is 27″ long and is mounted on walnut.  Edition limited to 48.  $18,000 USD  includes shipping and crating in US and Canada.