"Jack O'Connor 14th Annual Fundraiser"
Rick and Carole will be in attendance at the 14th annual Jack O'Connor Hunting Heritage Center on the evening of May 16th,2020. During the annual fundraising auction "Dominion" #14 will be auctioned off to the highest bidder. Thanks for your support.
"Jack O'Connor Monument Project"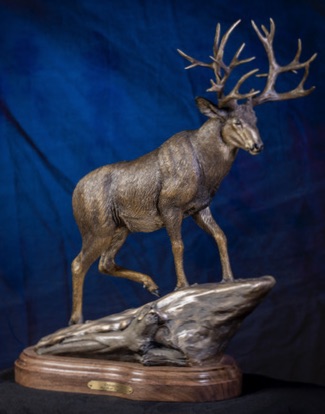 Join the legacy by sponsoring the outdoor monument to be installed at the entrance of the Jack O'Connor Hunting Heritage and Education Center, in Lewiston, Idaho.
The Jack O'Connor Center is honoured to have been selected by world renowned wildlife artist Rick Taylor to be the site of his tenth outdoor bronze sculpture. He is creating a magnificent 1.25 life-size Mule deer that will grace the entrance to the center and be unveiled in May of 2021.
The project will be supported by 100 sponsors who will each donate $4900. USD and in turn each sponsor will receive a limited edition numbered bronze that is 1/4 scale of a life-size Mule deer and available in a traditional bronze finish or a colored finish. Each of those sponsors will also have their name(s) included on a cast bronze plaque displayed at the outdoor sculpture. We are already half way there! It is not too late to be a part of this exciting project.
Rick grew up reading Jack's articles and books and they were instrumental in his love for wildlife and the outdoors and the path his career has taken. He has hunted extensively and collected many of the wild sheep of the world. His art is appreciated and collected by museums and individuals worldwide. He currently lives and works with his wife, fellow artist Carole Danyluk, in the rain forest of the interior of British Columbia and takes frequent trips into the wild places to visit and learn about the animals he loves so much.