"Lapp Creek -1936" (The Chadwick Ram)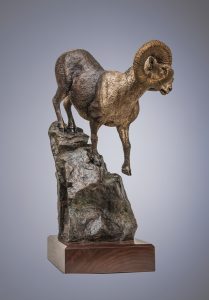 In 1936 L.S. Chadwick shot a tremendous 51 inch stone sheep in northern British Columbia on an epic 60 day hunting trip with Roy Hargraves and Frank Golata. This ram went on to be scored as the world record and remains in the Boone and Crockett record book in first place. It's iconic configuration is the logo of the Wild Sheep Foundation. The complete story of this hunt from personal diaries is being published in a new coffee table book called "Dream Rams of British Columbia" by Bill Pastorek. This book will be published in 2018 and contains over 500 photos and stories of legendary British Columbia wild sheep and wild sheep hunters. It also features extensive coverage detailing the story of L.S. Chadwick complete with never before seen personal notes and maps. This book is a treasure trove of information for any sheep hunter who has experienced BC. This sculpture and book set is a "must have" for any serious sheep nut.
This bronze is 1/5 scale and stands about 16″ tall. A purchase of this bronze will be accompanied by a complimentary copy of "Dream Rams of British Columbia" by Bill Pastorek. Retail $6000 USD includes shipping to continental US and Canada.  
"Beaver"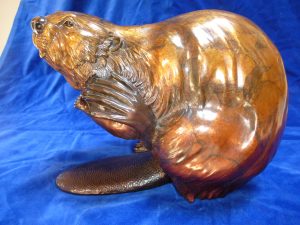 The beaver is the iconic Canadian symbol of industry and ingenuity. He is uniquely equipped to alter his landscape and survive anywhere there is running water. The beaver was instrumental in encouraging explorers in North America to expand the frontier and beaver fur was widely used to create felt hats and warm blankets. The historic importance of this animal is often belied by our often complicated relationship with this tree chewing, dam building, tail slapping rodent. Hail to the beaver!
"Catch. Release. Repeat."
Of all the  dreams that fishermen have one of the top rated would be hooking and landing an elusive steelhead trout. These sea run rainbow trout return from the Pacific Ocean to their birthplaces hundreds of miles upstream dodging currents, physical barriers and predators. It is there that they spawn and, unlike salmon, do not die. Hence, they might return to the ocean for another cycle and live to return again. By living a portion of their lives in the ocean they can feed and attain a size and strength much greater than their freshwater counterparts. Their reputation as spectacular fighters is legendary and it is this characteristic that draws fisherman from all over the world to the Pacific Northwest. Wild steelhead are protected and revered and must be released.  The overall height of this piece when mounted on a marble base is 10″ and it is 15″ wide.  It is available with two different rod configurations as seen in the pictures above.  The edition is limited to 48. $8500. CDN includes shipping worldwide.
"Spirit Bear" (Kermode Black Bear)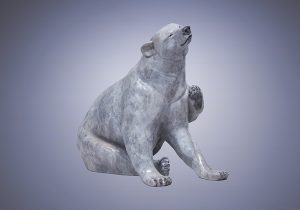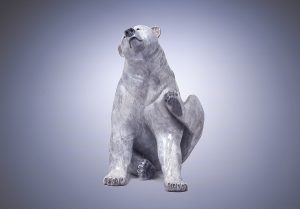 In the mid-coastal rain forest of British Columbia lives one of the most unique and geographically isolated species. The Kermode subspecies of black bear is not an albino, but rather, is a genetically fixed color phase. Being a recessive gene allows offspring of other colors to be born to the same mother. These bears are protected, revered and held in spiritual esteem by those who encounter them. Although known to be unusually friendly, they have only been studied by a fortunate few. This piece is free standing and measures 8 inches tall and 12 inches wide. It features an enhanced patina which showcases the animals unusual colouring. The edition in limited to 50. Inquire.
"Bad Company" (Ratel)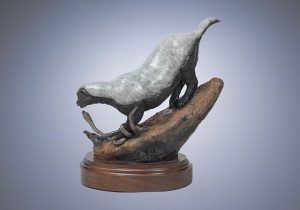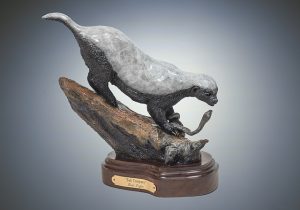 This African Honey-Badger is the badass cousin to the North American Wolverine. Similar in size and temperament it is one tough customer. Just ask any unfortunate snake that crosses his path. Interestingly, these animals are immune to reptile venom and use that to their advantage. This enhanced patina bronze stands about 8 inches tall and is mounted on a solid walnut base. The edition is limited to 100. $2600 USD includes shipping to continental US and Canada. THIS EDITION IS CLOSED.
"Cautious Approach"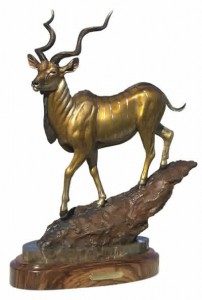 The unique feature of this Greater African Kudu sculpture is the use of .999 fine silver to depict the stripe markings and the chevron. It is mounted on exotic African zebra wood. This elegant sculpture measures 22 inches tall. $6800 USD includes shipping to continental US and Canada.  THIS EDITION IS CLOSED