"Down from the High Country" (Six horse pack train)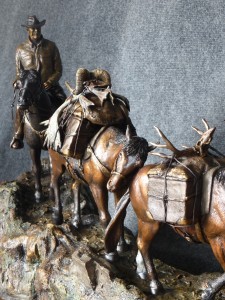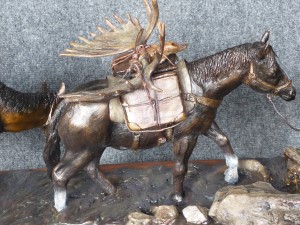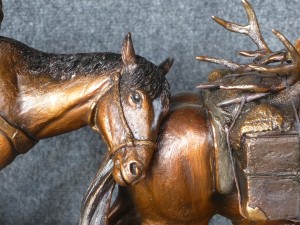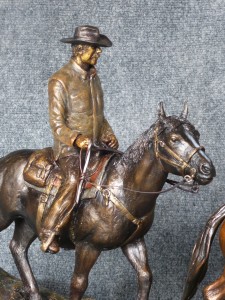 Taking a pack train of horses into the mountains for a hunting expedition should be on everyone's bucket list.  This extraordinary adventure is experienced every year in North America to access the highest and most remote areas.   The return trip hopefully includes pack animals loaded with the trophies of the successful hunters.  Here, the sculpture captures the pack train pausing and crossing a creek where they can drink and refresh themselves.  This sculpture, which is over six feet long, can be customized to represent your memories.  We can include your choice of trophies on the four pack animals and even customize them to look like particular animals if desired.  With the guide leading the string,  we can even customize the back rider to look like you!   This sculpture tells the story of how and why you hunt.  It commands a presence and views beautifully from all sides making it easy to place in the centre of a trophy room or lobby.    "Down from the High Country" is mounted on a 2″  Black Walnut base and is approximately 72 inches long.  $39,000.00  USD includes crating and shipping in North America.  Edition of 25.
"Lord Derby's Giant Eland"
The Giant Eland is the largest antelope in the world with bulls standing over 6 feet at the shoulder and weighing over a ton.  This large bronze is over 30 inches tall and 30 inches long.   It's distinctive vertical body stripes have been precisely inlaid with .999 silver and its tawny coat has been captured with a uniquely  contemporary patina.  The majesty of this singular species is portrayed by a mighty bull in full winter pelage  and represents the ultimate spiral horned trophy.   No small figurine could ever capture the power of this animal so at one quarter scale this is a large and impressive bronze sculpture.  "Lord Derby's Giant Eland" is an edition of only 25 and will command a place of honour in your trophy room.  $15,000. USD includes crating and shipping in North America.