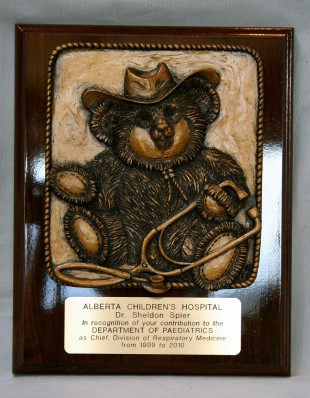 Alberta Children's Hospital Recognition Gift "Dr. Bear"
The Alberta Children's Hospital in Calgary Alberta commissioned Carole to make a presentation plaque to be used as as a recognition gift to those who have served the hospital in some way.  To be cast in "cold cast bronze", they are mounted on a walnut plaque which will hold an engraved tag with recipient's contribution thereon.  The image contains, in low-relief, a teddy bear wearing a cowboy hat and holding a stethescope.  The largest element, the bear , represents the children, the hat represents the support and shelter of the City and University of Calgary and the stethoscope represents the staff.  The bolo tie which bears the logo of the hospital echos the families and the "ties that bind".  The image is framed with a "hand-tooled" rope border.  Having been involved with the hospital from the blue print stage, Carole and Rick have contributed many artworks to the Alberta Children's Hospital and to the Flames House Hospice with the hope that they make the environments a nicer place to be.  For a custom recognition program for your hospital contact the artist.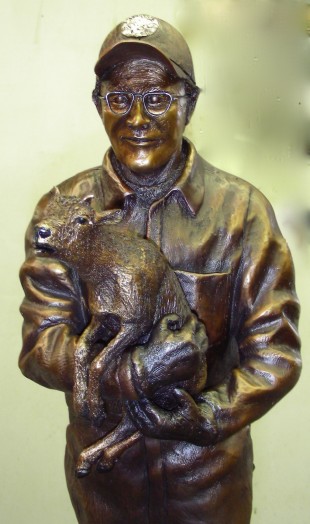 "Putting Sheep on the Mountain" (Rick Taylor's tribute to Dr. Jerry Waite)
This sculpture is Rick's personal tribute to Dr. Jerry Waite (past president of FNAWS)  and a fund-raiser for a club that Rick has been a member of for 30 years.   This club is the Wild Sheep Foundation and the wild sheep of North American are Rick's favorite cause.  This bronze depicts Dr. Jerry Waite as he handles a lamb destined to repopulate old sheep habitat, only one of many "on-the-ground" projects that FNAWS,  and now WSF,  initiate and fund.  This project is c0-sponsored by Ted Shutte (past president of FNAWS) and the Iowa Chapter of FNAWS.  This piece will be auctioned at the Convention this year and each year henceforth.  The winning bidder will have their name inscribed on the base of the bronze (entitled "Putting Sheep on the Mountain"  which will be on display at the WSF Headquarters in Cody, Wyming,  and at the club's annual conventions.  The winning bidder will receive a smaller bronze sculpture by Rick Taylor entitled "Free at Last" which depicts an ear-tagged lamb as he flees for freedom.   The proceeds raised are one hundred percent donated to the WSF with a portion earmarked for the "Biologist of the Year" and his or her research in the field.