"Fish On!"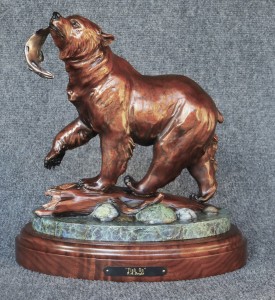 For two months of the year, I have the pleasure and privilege of observing these magnificent mountain grizzly bears as they fish on the Lardeau River.    In this sculpture entitled "Fish On!" a cocky young griz has caught his first trout.  Snagged only by the tail, this feisty fish writes his own ending to this story.  As I have often seen, success is not always a given.  This sculpture measures 12″ tall and is mounted on walnut.    Inquire to purchase.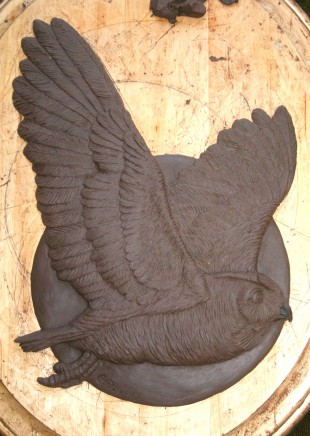 Alberta Childrens Hospital Doctors' Award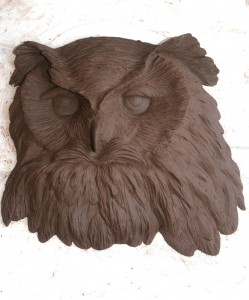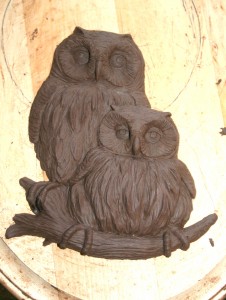 These owl themed award motifs are in keeping with the wildlife theme established by Carole at the Alberta Children's Hospital in Calgary, Alberta since the new hospital opened some 10 years ago.  The flying great horned owl and the owlets will adorn the plaque in the doctors lounge which holds the name of each year's award recipient.  The "top doc" will take home a custom walnut recognition award which will contain the portrait of the adult great horned owl.  The flying owl symbolizes family, protection, health and vigor.  The owlets are central to the piece by representing the kids and their circle of siblings and friends.  The female adult owl on the "take home plaque" represents all the qualities that owls and doctors have in common including knowledge, wisdom, patience and nurturance.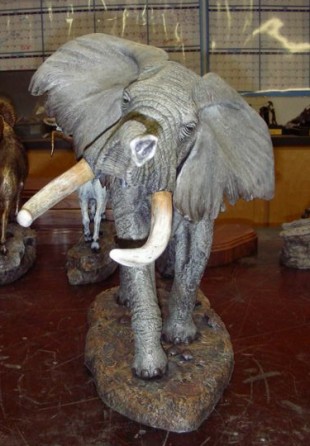 "Rumble" (African Elephant) by Rick Taylor and Carole Danyluk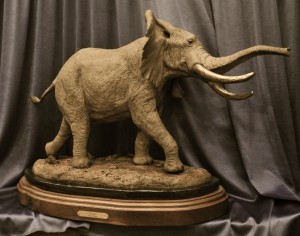 This a big bull African elephant!  He hears you.  He smells you.  He might even see you.  Get ready to run!  This tusker is ready to "Rumble."  This bronze stands 18 inches tall and measures 28″ long. This piece will be mounted on black marble atop a walnut base.   "Rumble" is strictly limited to 25 castings and it is a very rare sculpture  in that was jointly created by Rick and Carole to showcase their  specific sculpture skills.  It is shown in enhanced color patina but can also be finished in the warm classic bronze tones.  Inquire.