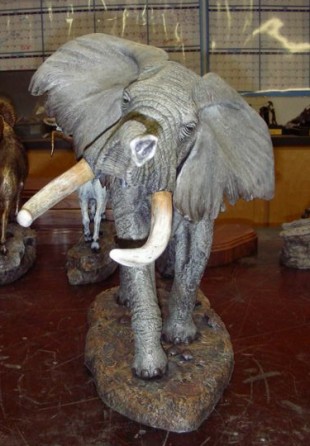 "Rumble" (African Elephant) by Rick Taylor and Carole Danyluk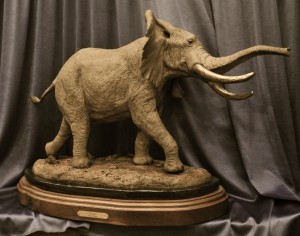 This a big bull African elephant!  He hears you.  He smells you.  He might even see you.  Get ready to run!  This tusker is ready to "Rumble."  This bronze stands 18 inches tall and measures 28″ long. This piece will be mounted on black marble atop a walnut base.   "Rumble" is strictly limited to 25 castings and it is a very rare sculpture  in that was jointly created by Rick and Carole to showcase their  specific sculpture skills.  It is shown in enhanced color patina but can also be finished in the warm classic bronze tones.  Inquire.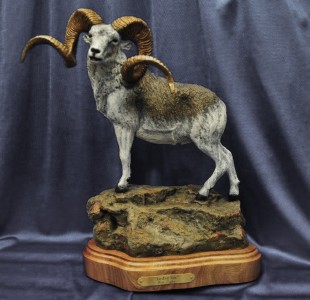 "Rarified Heir" (Marco Polo Sheep) by Rick Taylor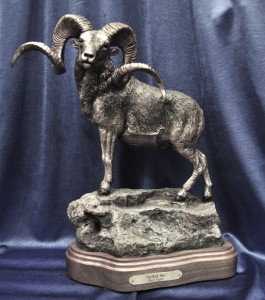 In the thin air  of the Pamir Mountains dwells the most beautiful of all the wild sheep, the fabled ram of Marco Polo.  In this realm might live a 74 inch ram and to this ram would go a title "The King of the Pamirs".  There is a set of pick up horns in the Museum of Natural History in London that were presented to the Queen that are 74 inches long.  This sculpture represents the holy grail of mountain dwellers.  Standing 14″ tall, this sculpture  is photographed with an enhanced color patina but can also be finished traditionally in the warm hues of bronze.  The edition is limited to 48.  $3250. includes shipping.  The photo below illustrates a more traditional ,less color enhanced , patinae also available on this piece.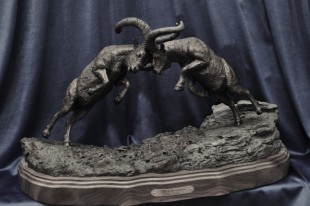 "Clash in the Caucasus " (Dagestan / Eastern Tur) by Rick Taylor
Tur inhabit some of the steepest country in the world.  This sculpture depicts a scaled version of the current world record Dagestan  Tur  (whose long horn measures 47 inches)  engaging in a fight for dominance.  The limited edition bronze sculpture measures 22 inches long and 12 inches tall and is mounted on 2 inch thick walnut.    The edition will be limited to 48.  $4800 includes shipping in US and Canada.