"Impala" (Desk Top) by Rick Taylor
African "Impala".  Limited edition cast bronze on fine walnut base. Measures 10″ high. Edition limited to 250.
"Cape Buffalo" (Desktop Series) by Rick Taylor
Limited edition bronze of charging Cape Buffalo in Desk-top size. Approximately 8″ tall.  Cast bronze mounted on fine hardwood.  Edition of 250.
"Phantom of the Forest" (Bongo) by Rick Taylor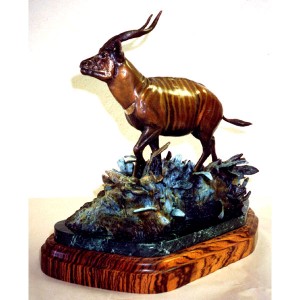 This is another limited edition bronze in the  African spiral horned antelope series which utilizes stainless steel inlays for the striped markings and chevron.  The shadowy patina portrays the stealthy denizens of the rain forest slipping through the underbrush.  "Phantom of the Forest" is cast bronze mounted on verdi marble and exotic African zebrawood.   This piece measures 15″ tall. Edition limited to 36. $4800. USD includes shipping in US and Canada.
"A Cautious Approach" by Rick Taylor
A unique feature of this African Greater Kudu limited edition bronze sculpture is the use of stainless steel inlays to depict the striped markings and the chevron.  Pieces in this edition are mounted on exotic African Zebra wood for added beauty.  This elegant sculpture measures 22″ tall. The edition is limited to 48. $4800 USD includes shipping in US and Canada. Please call to order.